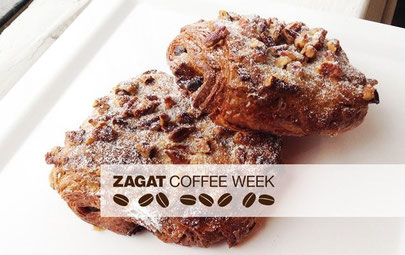 Crumble & Flake's Twice-Baked Chocolate Croissant - by Leslie Kelly - February 2014
"We've consumed plenty of twice-baked croissants but the new chocolate twice-baked croissant from Crumble & Flake, the tiny bakery on Capitol Hill, is unlike anything else." Read the article
Seattle chefs named James Beard semifinalists - by Tan Vinh - February 2014
"Among the first-time nominees was Neil Robertson of Crumble & Flake Patisserie on Capitol Hill, up for 'Best Pastry Chef.' Robertson, who was taking croissants out of the oven when he heard the news at 7:30 a.m. said, 'Oh my God, I can't believe it. I'm stunned.'" Read the article
The Cooking Channel's show "Unique Sweet" visited our shop on a recent episode. Watch how we make our pistachio croissants and stilton scones: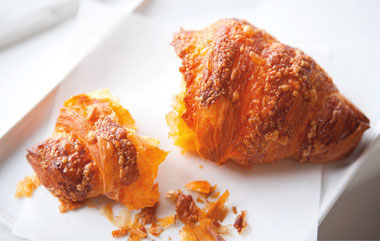 Best Dishes of 2013 Countdown #10: Crumble and Flake Smoked Paprika and Cheddar Croissant - Kathryn Robinson - December 2013
"I can't stop obsessing over how one particular croissant—gilded with savory cheddar, sublimely deepened with smoky Spanish paprika—shattered on the palate into a million melting shards." Read the article
Macaron Magic - Leah Baltus - August 2013
"Crumble & Flake on Capitol Hill does three flavors every day. I tried cherry with chocolate, flaunting a ganache filling with a pocket of cherry jam hiding in the middle; a light and tangy grapefruit with buttercream filling; and a subtle mojito, beautifully airbrushed green. Though untraditionally jumbo, these were the best of the bunch—subtle, precise and totally transporting." Read the article
Best of Seattle - Best Bakery: Crumble & Flake Patisserie - August 2013
"The crowds have only recently begun to let up, at least a little—not surprising given that pastry chef Neil Robertson's background includes a stint at Canlis. Crumble & Flake is a jewel box of a place, with no counters or tables and inside space for only a few customers at a time. In the showcases you'll be tempted by such treats as crunchy kouign-amman (like a croissant folded into itself), perfectly caramelized canelés, chewios (like a chewy Oreo), colorful macarons, and cream puffs." Read the article
Crumble & Flake Patisserie: Long lines attest to bakery's success - by Tan Vinh - October 2012
"Some of the city's most interesting savory pastries are offered: a blue-cheese scone ($2.50) mild enough to pair with apricot bits; a brioche ($3.50) with a salty crust and a sweet and sour interior of figs, olive tapenade and balsamic vinegar. The croissant ($3.75) with a salty coat of cheddar and a smoky finish from the Spanish paprika will be etched in your mind long after you've taken that last flaky bite.
"Cheweos" ($2.50), a twist on an Oreo, might be the best cookie in Seattle — with the moist, thick texture of a brownie, filled with peanut or coffee cream." Read the article
Seattle Pastry Chefs Go Rogue - by Kathryn Robinson - September 2012
"The croissants often sell out too, but if you score one you'll note that it shatters on impact—the namesake flake—and gently, not unctuously, oozes butter. Cheddar and smoked paprika grace one fine version; another, the croissant's cousin, pain au chocolate, also rocked (though the chocolate was a little cloying). Robertson's cookies are bliss: a blueberry-oatmeal whose crisp edges concealed chewy centers and bursts of midsummer juice; a salted peanut butter that crunched and melted by turns. Yes, I've been back a few times; next time it'll be before 7am." Read the article
Neil Robertson rolls out perfection at Seattle's Crumble & Flake - by Sandi Halimuddin - June 2012
"Given Roberts' former stints as pastry chef at Canlis and Mistral Kitchen, it shouldn't be a surprise that his highly anticipated solo venture is proving successful. At the very least it has alleviated one of Robertson's earlier concerns: 'When we first opened, I thought to myself, "What am I going to do with all the leftovers?" ' said Robertson candidly." Read the article
Butter Personified - by Megan Seling - May 2012
"To make these small, perfect batches, Robertson starts working at 4:30 in the morning. He's been refining some of his recipes for years. And, despite the crowds, he claims a few of them are still not quite perfect enough. (He also admits he's a control freak—"Let's put it bluntly"—so take his claim of imperfection with a grain of salt.)
The croissants are almost always the first to go. They've been sold out two of the three times I've been to Crumble & Flake. An unthinkably crispy, deep golden outer layer hugs the tender, cloudlike insides. Tiny pockets of butter burst on your tongue when you sink your teeth into it." Read the article
Best Pastry Chefs 2012 - February 2012
"It's hard to imagine what territory might be left for Neil Robertson to cover. But after having led the pastry departments of some of Seattle's best restaurants, he's renewed his career once again with his first solo venture, a bakery called Crumble & Flake that will open in April." Read the article
Canlis Baker to Open Shop on Capitol Hill - by Erika Hobart - October 25, 2011
"Esteemed baker Neil Robertson--his resume includes stints at Canlis and Mistral Kitchen--plans to open a shop called Crumble & Flake, according to Capitol Hill Seattle. He is currently looking for a small space in the neighborhood to serve his beloved croissants and macarons." Read the article
Crumble & Flake Seeks Hill Home - by jseattle - October 24, 2011
"Your new neighbor Crumble & Flake would bring a pastry expert of some renown to your street. In his most recent Seattle stints, Robertson has produced buttery sheets of flaky goodness at Canlis and Mistral Kitchen. Seattle Magazine just called him "Seattle's biggest name in pastry." Not bad for a man who started his second career after a decade as a graphic designer. Robertson tells CHS he left Seattle after that first career to make his name in pastry in "some amazing kitchens" in Las Vegas." Read the article
The Next Wave of Tastemakers - by Allecia Vermillion - November 2011
"The man whose subtlety with flavor and illustrious stints at both Canlis and Mistral Kitchen made him Seattle's biggest name in pastry, left his post at Mistral Kitchen earlier this year to go out on his own. But he'll be back soon: Robertson (here, munching on one of his specialties, the French pastry called kouign-amann) is opening his own bakery, Crumble & Flake, on Capitol Hill (exact location had not been announced at press time; crumbleandflake.com)." Read the article